So, in the latest installment of Let's Give Liberals Another Reason to Not Shut the Fuck Up About Gun Control, another dude lost his shit and went on a shooting spree in Florida (no surprises there) and blasted 17 innocent students to their deaths and landed himself into police custody and probably the wet dreams of edgy, autistic teenage girls. Only the latest in a seemingly never-ending string of shootings that have occurred, one right after the fucking other in the last few years, this one being the 18th… 18th one this year so far. Need I remind you that it's only February. It's even getting to the point where it's not as impactful anymore as it was a decade ago when it happens. Barely anyone expresses any real shock anymore, because it's so frequent now. Call me crazy, but at this point, I feel like shootings are quickly becoming just another part of modern American culture. It's on the road to becoming such a normality here, that soon enough, it'll probably be what terror attacks are sadly becoming for Europe. I don't know if i'm alone on this belief, but boy oh fucking boy, does it look like that's where we're headed. You can blame what you want for it: mental illness, terrorism, whatever, but I don't see what can really be done at this point. I'm personally all for owning a gun and being armed, but I do think you should have a license and a background check done to own one, but that's just me. That's a whole other rant, though. What I really want to talk about here, what REALLY prompts me to write this, is one particular thing that ALSO seems to be well on it's way to becoming a cultural norm here in the good ol' US of A.
During the fiasco, one student, while hiding in a classroom, posted a video of it to his SnapChat story, with the caption "OUR FUCKING SCHOOL IS BEING SHOT UP"… because that's exactly what my first thought would be if some gun-welding maniac was running rampant and I had to run for my life and hide in a fucking closet, to take my phone out and record the whole thing. This is something that I've been wanting to talk about for a while now and I feel like this is a good opening to do so. We're living in a world now where EVERYTHING, and I do mean EVERYTHING has to be broadcasted on the internet. Every little facet of our personal lives needs to be plastered on our timelines, newsfeeds, stories, whatever for the world to see. Even our most intimate, vulnerable and frightening moments can't be private anymore. It's honestly getting really annoying. Now to be clear, this isn't an anti-social media rant by any stretch of the imagination, if you know me, you'll know that i'm the furthest from opposed to it. I do however, feel like people take it way the fuck too far and feel the need to make it their second reality. Social media has become so normalized and ingrained into our culture that it's become our library to document all of our successes, failures, dramas and trials & tribulations into a pubic file cabinet for any Tom, Dick and Nancy to open and look into at any time. Even the things that are none of their fucking business and belong behind closed doors. Evidently, this is also true for times where our lives are in fucking danger and our phone will serve no help to us whatsoever. There's also this example: a man who has his daughter with him recording a Walmart lockdown after another unstable misfit shows up looking to shoot people.
Now, I don't ever plan on having children, but on the off chance that I do, and I find myself in this sort of situation, call me old fashioned, but i'd be MUCH more worried for my child's safety than recording the ordeal for a YouTube video. I understand that part of this comes from a place of wanting to spread awareness of what's going on and all that, but at the same time, there are certain points where making sure your own safety and the safety of those around you is more important than taking out your phone and recording everything. There has to be a line drawn, especially when it comes to something like this. It's going to get massive media coverage for days anyway. People will know about it regardless. THEN we have this…
If you're a racist and you're going to go on tirades like this, whatever, your business, but if you're going to put it on the internet for all to bare witness to, then you damn sure better be prepared for the shitstorm that will immediately fall upon you right after. Same goes for that Air Force woman who did the same thing a couple weeks ago. (By the way, I only used a Young Turks video here because it was the only video that had this girl's rant uncensored, I don't like censoring shit here so I just said "fuck it" and used it. Fuck the Young Turks otherwise).
Now… let's get to the thing that irritates me the ABSOLUTE FUCKING MOST out of all of this. The thing that really got my wheels turning to write this rant. The thing that i'm sure many other music dorks like myself will agree on.
People going to shows and putting the ENTIRE goddamn thing in their SnapChat or Instagram story.
I'm sure some of you have Instagram and SnapChat accounts and have encountered this before. There are always these people who go to shows and while there, the only way they can enjoy the fucking thing is if they take their phone out and record it for their stories. The entire show. Every last second. To the point where they have over 500 snaps for you to sift through to get through their story. To me, it's one of the most annoying fucking things that I encounter on social media. Going to shows is great, taking a few pictures and videos is fine, but if you're so technologically dependent that you can't put the fucking phone down and just enjoy the show after taking those pictures or videos, then maybe you shouldn't be going to shows at all. You're not going to get much out of it if you're just watching it through a monocle. Then you want to wonder why guys like Maynard James Keenan want to ban that shit at their shows. It's gotten way out of hand and I can't really argue with their decisions. Put the goddamn thing down and just enjoy the experience. It's not hard and much more rewarding that way, ESPECIALLY if you have the privilege to go to every single goddamn show that comes to your area. Rich fucks.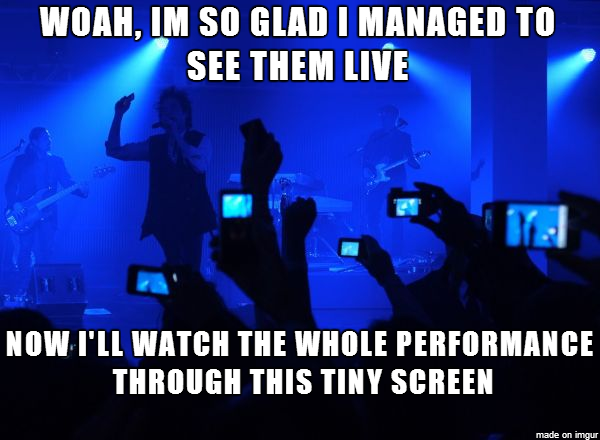 Another instance of this lunacy was on Facebook a few days ago. A dad who's son died of cancer, posted a picture of himself cradling his kid's dead body while crying (not going to put that picture here out of respect). I understand the sentiment, I do, it's a sad and devastating thing to go through, but do people really need to see that? Do your family and friends really need to see your kid after he's passed? His grandparents? Aunts and uncles? Cousins? Anybody? Again, to me, things like these are far too intimate to be shown to the world. social media has given us the ability to turn our lives into these big, dramatic sideshows for everyone to watch. It lets us make our lives look more interesting than they really are and it's instilled this mentality into us that we need to show everything to everyone at all times to stay connected. It seems like the line has been dramatically blurred between what we share and what we keep private. There doesn't seem to be any boundaries anymore. The harsh reality of this is: No one actually cares about your personal life. If it doesn't involve them, then it means nothing to them. People have their own lives to worry about and your dramas and personal woes are not for their entertainment, they're for you to keep private and resolve!
Again, I don't mean to sound like an old man yelling at a cloud, i'm not anti-cellphones or anti-social media or anything like that. Also, i'm not downplaying what took place in Florida, all i'm saying is there are just points in life when the physical world is far more important than the cyber one, and the Florida shooting is a prime example of that. If putting the situation in your SnapChat story is the first thing on your mind instead of protecting yourself and helping the ones around you, then maybe you need to take a look at yourself and wonder if you're obsession with social media is more detrimental than you think. I'm not going to talk about gun control or what caused this to take place, that's a whole other can of worms that I choose to stay away from, but I really felt the need to speak up on this because it's been an annoyance of mine for quite some time now and what went down in that school besides the firing of those bullets that claimed those lives is a perfect example why.
So please, folks, leave your SnapChat stories for shitty selfies, leave your racist rants for the dinner table and leave dead kid pictures for BestGore. Life will be much more enjoyable that way.