Well, it's that time again, fuckers and fuckettes. Time for a quick rundown of albums from the last couple months that I just didn't have time or never got around to reviewing in full. This is something that i'll be doing every couple months going forward, where I'll compile 8 albums that I enjoyed (or just wanna take a nice big shit on) and give a mini-review to, because as we all know by now, i'm one of the hugest, most overly-obsessive dorks out there and I listen to A LOT of shit, so not every album can get a full review. I just don't have that kind of time. Not saying that any of these can't ever get a full review down the road, they can (if they're good enough), it'll just take a while. But for now, this will have to do.
So enough of my needless rambling, here are 8 really good albums from the last 2 and a half months that deserve some spotlight.
Boethiah: Invocation of the Xenolith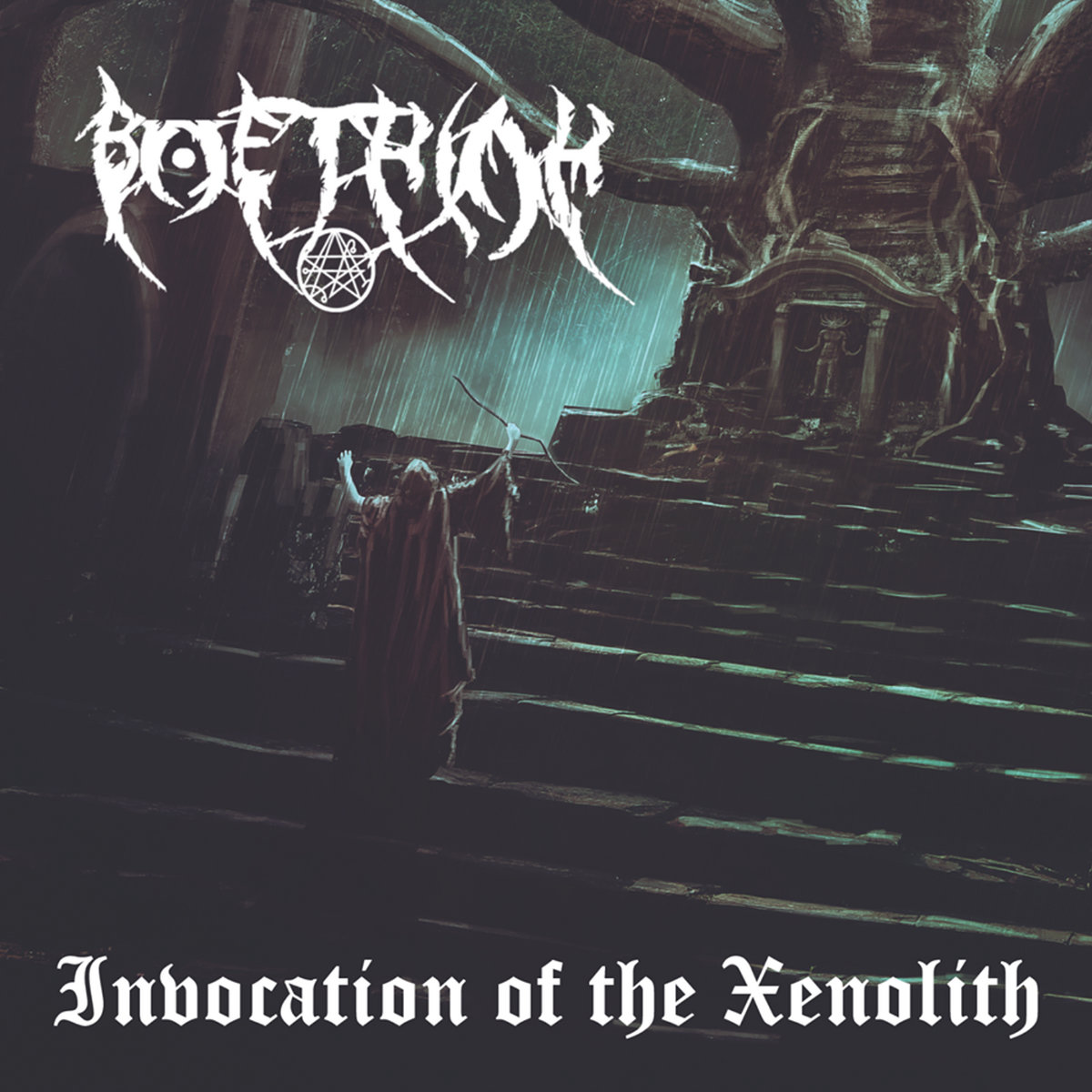 Starting off with some dirty, nasty and ridiculously loud and crushing west coast Death Metal. This is the debut full-length from California's Boethiah, that had quite a few people talking these last couple months and with good reason. This is a short and sweet slab of intense, harsh and crushing old school style Death Metal, filled to the brim with sharp, piercing riffs, thick, crushing drums and some of the gnarliest growls I've heard this year so far. Simple, effective and downright brutal, nothing much else to say. The wave of quality OSDM continues with this one. If you dig Gatecreeper (which you should), then this is for you as well.
Hellish God: Evil Emanations
Next we have some Death Metal of the Italian variety. Italy's Hellish God with their debut, through Everlasting Spew Records, a label that I've just recently discovered and am so far impressed with what they have to offer. The best way I can describe this one is a less frantic Fleshgod Apocalypse or Hour of Penance (duh, I mean they are from Italy). Their sound is more on the technical side of the spectrum, but not as fast, vicious or ridiculously fast-paced as those two. It's more of a straightforward style, but it works just as well. You can still expect some harsh riffs, blasting drums and bellowing growls done very well, just not with the same level of aggression or ferocity. Some may even call this a watered down version of those two, but to me, it's still enjoyable and i'd still recommend it. It's the niche Italian Death Metal sound (or what seems to be so) and it's good for what it is.
Czort: Czarna Ewangelia
Part Marduk, part Watain, a little post-Gaahl Gorgoroth thrown in and this is pretty much the end result. This is mostly mid-paced, play-by-numbers Black Metal with a vortex of tremolos, some sharp, Thrashy riffs, muddy, rumbling drums and pretty nasty shrieks. Pretty simple but still decently enjoyable. There are even a few moments in this that sound like Dimmu Borgir if they didn't blow up and start using symphonies or whatever the fuck they use. That's a plus. Again, pretty good stuff overall from these Polish newbies. Worth a shot!
Hoeverlord: Satanik Küntkvlt
Nasty, sleazy and intense Blackened Thrash/Speed Metal that harkens back to the days of the groovy, punky style of Venom, Bathory and the likes, with it's own modern twist, implementing the filth and ferocity of the likes of Carpathian Forest, Destroyer 666, Gospel of the Horns, etc. Very heavy and unrelenting sound-wise, but with some very catchy riffs and grooves that enhance it greatly, and completed by sick, sleazy vocals that sound like they'd come from Lemmy if he went the Trve Kvlt route. Just a quick, 36-minute ass kicking of hellish proportions, the way Blackened Thrash should be. Perfect for sacrificing virgins AND whores to the desolate one.
Stormbane: Eldritch Devotion
Continuing down the Blackened Thrash route, we have some more hard-hitting stuff from the spider-filled land down under. Australia's Stormbane offer up some more fast, intense riffs, pounding drums and gnarly shrieks that make up a relentless Thrashy Black Metal assault that'll impale you like shrimps on the barbie. An easy 34-minute listen, but anything but easy on eardrums. Pretty damn good stuff here. Old school-spirited, no frills, no fancy-shmancy shit, just pure Thrashy Blackened filth for those who crave such. These Aussies know what they're doing.
Rotheads: Sewer Fiends
Filthy, slimy, ghastly Death Metal that sounds like it was pulled straight the fuck out of the early 90s and dropped into 2018. You'll hear some Death in here, some Morbid Angel, some Dismember and whatever other notable band from that era under the yellow sun. This is some really good, grimy stuff that'll please any old school fan for sure, much like Gruesome did when they first bursted onto the scene a couple years back, and are hopefully going to continue to do when their next outing is released. This is another band to look out for this year and in the near future. If you like your Death Metal muffled and filthy, then get your ears on this one, stat! It's perfect for all of you grimy bastards! Great stuff.
Druid Lord: Grotesque Offerings
Closing off with a couple of new stellar outings of the Doom variety. This is one that took me a while to give a listen to, which I finally did and regret waiting for so long. Druid Lord have been creating some buzz with this one and for good reason. This is thick, crunchy and downright grimy Death Doom in the vein of early Acid Witch, and is definitely on par with them. Just full of slow, head-crushing riffs with some sweet melodies in between, slow, dragging drums and nasty, snarling vocals that sound menacingly evil and disgustingly vile all at once. This is my first good listen of this band and it sure as hell made a fan out of me. Another great Doom Metal outing, and it may get a full review in the future.
Hooded Menace: Ossuarium Silhouettes Unhallwed
Finally, we have some more harrowing Doom of the Death spectrum with the latest from a band who's last album I wasn't a big fan of, but have totally redeemed themselves here. Hooded Menace return with probably their best outing yet, with a more epic and vibrant feel than before, while keeping the crushing heaviness and intensity that they're known for. This is excellent stuff and another Doom Metal album that deserves recognition. Quality Death Doom done right. Crushing riffs, pounding drums, bellowing growls and a murky but robust atmosphere, the whole works. If you're looking for extreme Doom with some life and extravagance to it, this and the album above are highly recommended.
___________________________________________________________
And that's all for now, folks. Give these a listen for sure if you're interested. 2018 is off to a pretty damn good start and I don't see it slowing down anytime soon, there are a LOT of releases coming that i'm looking right the fuck forward to that are almost guaranteed to be fucking rippers. So expect another one of these in the next couple of months. This blog isn't slowing down anytime soon either. Godspeed, nerds!