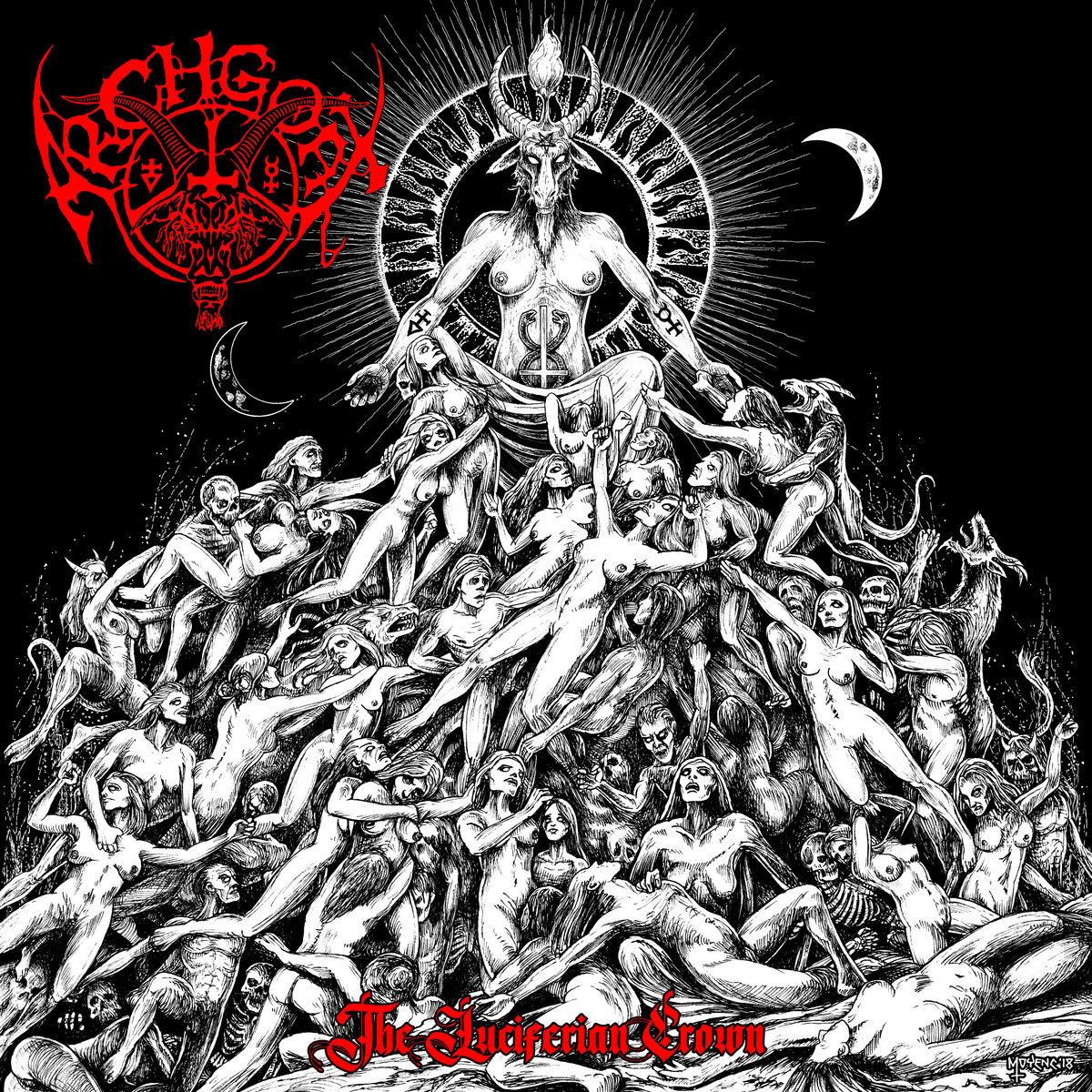 You probably hear a lot about War Metal these days if you're on the Extreme Metal section of social media. I don't want to call it a "trend", because that would be a bit of a stretch, but it has been getting a lot of buzz lately, especially with newer bands lighting up the genre like a nuclear holocaust. Bands like Antichrist Siege Machine, Ride for Revenge, Tetragrammacide, Nyogthaeblisz and others have sort of revitalized things for the genre in recent years and made it even more dissonant and punishing than usual, with the addition of Noise to the mix. We have the more classic names mentioned a lot now too, like Blasphemy, Revenge, Black Witchery and so on, but these newer acts are getting some shine lately and it's good to see, because I do like all of them. This review isn't about them, however; I'm just pointing out the obvious. This review is for the latest offering by one of the hardest hitters of them all, who pack just as devastating of a punch now as they always have! This is the new album by the mighty Archgoat, and it's another fucking ripper of absolutely ruinous proportions.
The Luciferian Crown is the 4th full-length album by the Finnish war blasphemers, and it's already gotten a hell of a reception, which after hearing it myself, is definitely the right one. This is Archgoat at their absolute most violent and destructive, bearing their signature brand of filthy and chaotic Blackened Death Metal with thick, nasty guitars that sound like the audio equivalents to spiked bats beating you into bloody mush, equally thick, head-bashing drums that belt out those signature paced but crushing blast-beats that make the band's sound so recognizable and topping off the madness, is the sickening growls of Lord Angelslayer, that still sound as vile and snarly as ever. The only difference I can find between this album and the last 3, is the production, which isn't necessarily clean, per se, just a bit different, but it works. Archgoat remain one of the more consistent bands in Extreme Metal, who know how to keep things fresh while making their sound nastier and more punishing with each passing release. This album is nothing short of another example of that.
After a brief intro, Jesus Christ, Father of Lies wastes no time in blasting out at you with vicious force, with said blast-beats and blistering chords, while the snarls seep over them. It begins beating your ear-cells into submission right from the jump and gives no fucks in doing so. A ton of sweet riffs are present as well. There was always something particularly harsh and barbaric about Archgoat's sound, that makes them stand out, even in a sub-genre as saturated (at one point, at least) as War Metal. They have this certain feel of evil and malice to them, that creates the apocalyptic vibe that surrounds their sound; their production has always helped with that too, especially on their first 2 albums. Back to this album, Jezebels Black Mass Orgy continues the barbaric assault and doesn't let up from the previous one, aside from a new set of hellish riffs. Then comes Messiah of Pigs, which you may want to skip the intro of if you're a vegan, especially the annoying kind; another savage brute of a track where Angelslayer's growls particularly shine through. The guy sounds extra fucking demented on this album and I love it.
There are also tracks that take things in a Thrashier direction, like Darkness Has Returned and Star of Darkness and Abyss, which has somewhat of a Destroyer 666 feel to it, which I dig. Both good tracks that'll make your head bop, whether it wants to or not. Then there's The Obsidian Flame (from My Depths), in which the intro alone will melt your face allover your clothes; one of the few tracks that slows things down a bit but still keeps that punch packed and lethal. Same goes for the title track. Another standout is the chaotic, rumbling closer, I Am Lucifer's Temple. It's always good when the closing track stands out and ends an album on a memorable note. It's a paced and pretty groovy track, the ripping chords are protruded one last time, but much slower and an odd bass riff hovers throughout it. The vocals also reach a new height of ugliness for the last track. Again, it ends on a memorable note.
So, needless to say, Archgoat once again did not disappoint. They bring pure bestial savagery to the table like no other in their genre. Whether you want to call it War Metal or Blackened Death Metal (potato, potaato), is your choice, but the ruthlessness and evil that they bring to it is unmatched, as far as I'm concerned. I've been a fan of these guys for well over a decade now, and the fact that they've been around for well over 2, and are still putting out quality, head-smashing jams says it all. I was in full anticipation mode from the moment this album was announced and to say it was worth the wait would be an understatement. Another job well done by one of Extreme Metal's most revered veterans. Hail to the fucking goat!