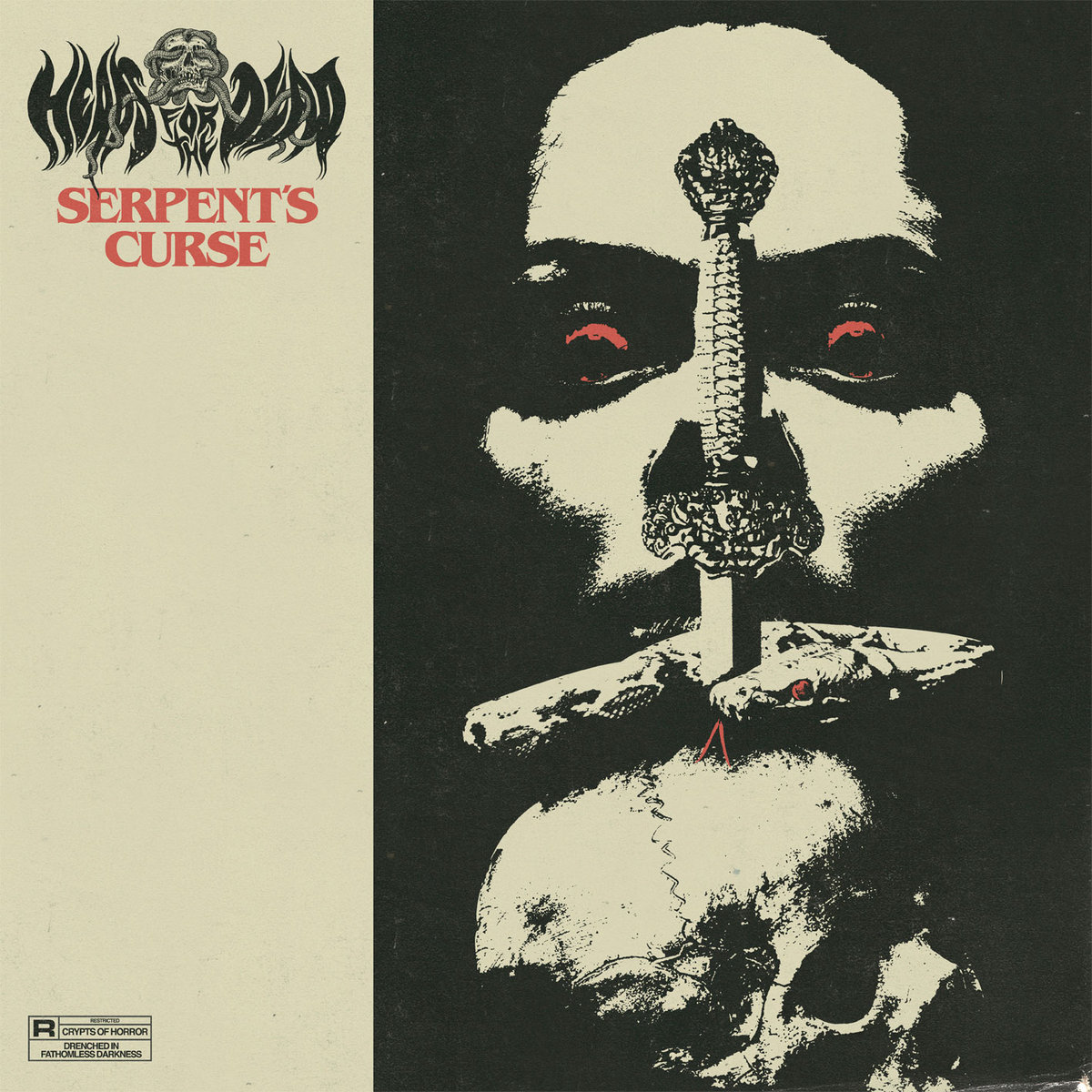 You know an album is good when it's originally slated for the next Quick Album Thoughts post, but I end up having to give it a full review instead. That's the case for this one for sure. It was going to go into my Mid-Year Catch-Up QAT post at the end of November, but one listen of it and BOOM! It earns it's way onto the big stage and proves that it's worthy of far more than a small paragraph. Heads for the Dead is a new Death Metal project, made up of 2 members, who play and have played in several other Death Metal bands, like Wombbath, Ashcloud, God's Forsaken, Human Harvest and Vholdghast (Jonny Pettersson) and Revel in Flesh and Immortal Rites (Ralph Hauber). These 2 minds have come together to create something pleasantly surprising and just as good, if not better than those names mentioned. Serpent's Curse is the duo's debut full-length, released by the great Transcending Obscurity Records (expect a Label Latests on them in the future) and I should have listened to it much sooner than I did, as it came just in time for the Halloween season and was perfect for an October review. This is ghoulish and hard-hitting old school Death Metal, with some massively juicy riffs and an insanely hellish atmosphere to it. This is one of those albums that may not look like much to the naked eye, but comes out of nowhere and ravages your senses with one spin and shows you how good it is without effort. Even the most lesser-known of names in Death Metal are making their impact in 2018.
The title track begins this hellride, with thick, crushing chords raining down on you mercilessly, as rumbling double-bass drums tear through the ground beneath you as the assault begins. The track then speeds up into a violent, Thrashy groove, that batters you like a red-headed stepchild; the violent, rapid-fire pounding of the drums and sharp, swift chords are the backbone, while the harsh, cavernous growls are the heart and claws of this beast. Heads for the Dead follows with another violent blast of Thrashy riffs and hyper-fast, hammering drums. A lot of sharp, juicy riffs and even some mini-solos are present as well. It's clear that one of the things that brought these 2 gentlemen together to make this project was the stellar musicianship between them. This track is proof positive of that. I'm not a big fan of tracks named after the band themselves, I think that's pretty corny, but this one is a fucking banger and encompasses what this duo is all about. Then comes the slow and Doomy Deep Below, where the pace is slowed way the fuck down and begins to resemble any top-tier Death Doom name you can throw out off the top of your head. It's a massively heavy track, with an early Asphyx feel to it. The double-bass drumming rumbles under hammering chords and searing tremolo picking and the growls fit it perfectly as they sear over it all. The tone and feel of this track is fucking epic and easily one of the most enjoyable of the batch. The Awakening is the very same way and just as well done; both tracks stand out and prove that these guys aren't one-trick ponies.
Post Mortem Suffering is another one that rips through you with it's vicious, blasting delivery, ranging from ferocious blast-beats and ripping chords to equally ripping Thrashy grooves. Sounds like something off of Bloodbath's Nightmares Made Flesh, but much dirtier and harsher. Of Wrath and Vengeance is another somewhat Doomy one, but this time, strikes a nice middle-ground between that and the faster, more violent side; just crushing chords and sharp riffs galore, as is Gate Creeper. The album comes to it's grueling, savage end, with Return to Fathomless Darkness and In Darkness You Feel No Regrets, both of which are intensely abrasive tracks that give you one last ruthless beating of bludgeoning chords and snare-pounding madness. Those tracks are what finalized my decision to give this album a full review, rather than a mini one. Just pure, old school, bullshit-devoid savagery, that slaps you in the face with the most violent of force. Both serve as the perfect closing to what the title track starts. I was shocked at how great this one turned out when it was over and it was going to be a QAT review because I just don't have time to review EVERY goddamn thing that comes out, but I had to make time for this one, because it proved it was worthy of that time. Very rare does an album manage to do that, to the point where it makes it's way off of a QAT. This album did it and should be fucking rewarded with recognition and support!
This is old school Death Metal of the ugliest and most ghoulish form. The 2 men behind this project clearly had a vision and they delivered on it splendidly. I hope it continues and we get some new stuff from them in the near future. I can't think of the last time an album snuck up on me and caught me off guard like this one did. It's certainly been a number of years at this point. Bottom line, definitely get this on your radar, give it a shot and let it's violent, hellish aural force ravage your being from jugular to prostate. There's no fucking way this isn't going to make waves in the underground in the next few years if it keeps up. This is filthy, evil and head-smashing Death Metal done right and not a single modicum fucking less.