Welp, it's that time again. Another two weeks, another brand-exclusive WWE PPV to sit through. Awesome. This time Raw takes the stage for Extreme Rules, and quite frankly, going into this, I could not have given a single fuck less for it. The product has been dreadful lately and it hasn't done anything to keep me engaged. However, I am still a fan and I do review these shows for the blog, so I shall watch anyway. I suffer for you folks. So, did this show deliver? Overall, it did, but only in a few aspects. It was a dull show overall, but there were a couple really good matches and some cool moments (mostly in said couple matches), plus one very baffling moment that had me scratching my head. So yeah, pretty interesting show.
So, fuck it, let's just get right into it.
Dean Ambrose (c) vs The Miz (Intercontinental Title)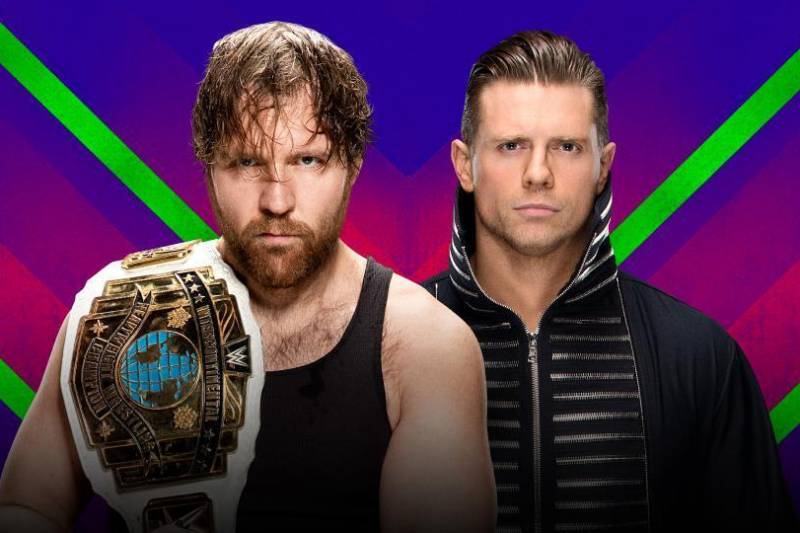 Starting things off, we have the Intercontinental title match, under the stipulation that the title can change hands on a disqualification. Pretty ironic for a supposedly "extreme" show, right? Anyway, decent opener overall with a pretty weird finish. It usually doesn't take a referee that long to call for a DQ, but it is what it is. The Miz wins in a normal fashion with the Skull Crushing Finale and regains the IC title for an 8th time. Again, pretty decent at best match.
Rich Swann & Sasha Banks vs Noam Dar & Alicia Fox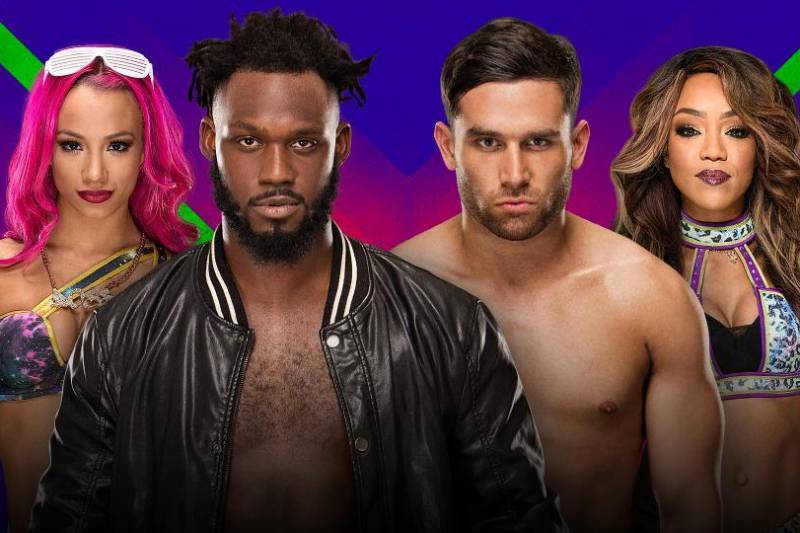 Next, we have a match that I can't believe was even on the card. Overall, this one was ok. I didn't care for it at all. I love Sasha, but not in useless matches and storylines like this. Sasha and Rich Swann win. That's about it. Again, just okay.
Kendo Stick on a Pole Match: Alexa Bliss (c) vs Bayley (Raw Womens Title)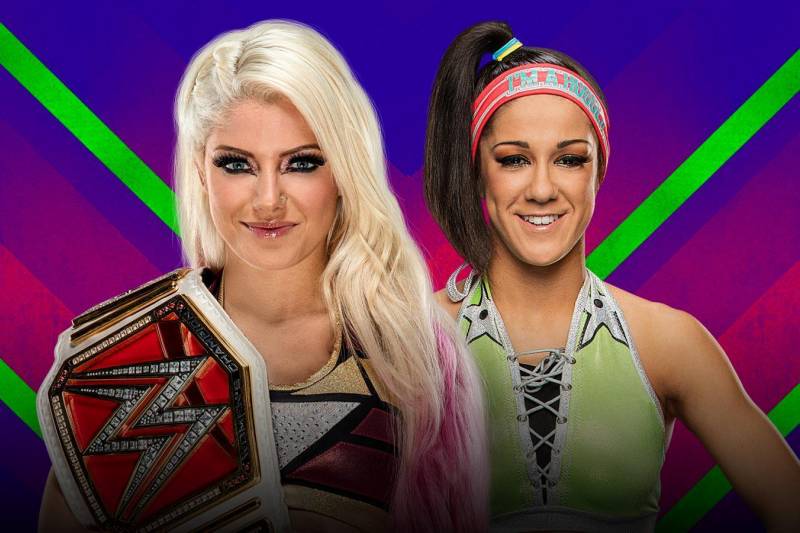 Next we have a match that sounds like it came straight from Vince Russo's handbook. Wow. This match was much shorter and much less interesting than I had anticipated (guess I shouldn't be surprised), and boy oh boy, did it not do any favors for Bayley. They made her look weak in this match. Super weak. Alexa beat the ever loving shit out of her with the kendo stick and capped it off with a DDT for the win. That was that. Just a short, uneventful and dull match that made me and probably many others dislike Bayley even more. What a perplexing, head-scratching move (told ya).
Steel Cage Match: The Hardys (c) vs Sheamus & Cesaro (Raw Tag Team Titles)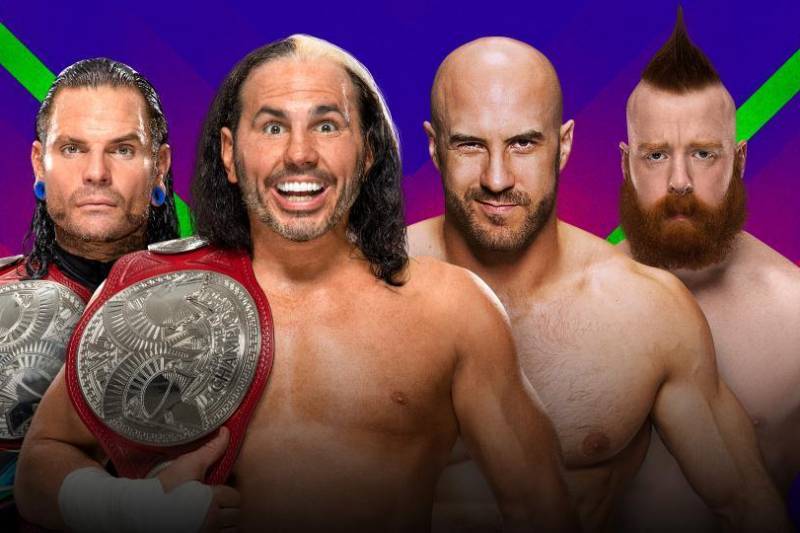 Next we have the first of the only two matches I was actually looking forward to. Overall, pretty good match. Good back and forth action and a few cool spots off the top of the cage, particularly Jeff Hardy's Whisper in the Wind from the top. Pretty good stuff all around. In a surprising turn, Sheamus and Cesaro escape the cage and become 2-time tag champions. Okay, cool. Good match overall. Nothing too spectacular, but good.
Submission Match: Neville (c) vs Austin Aries (Cruiserweight Title)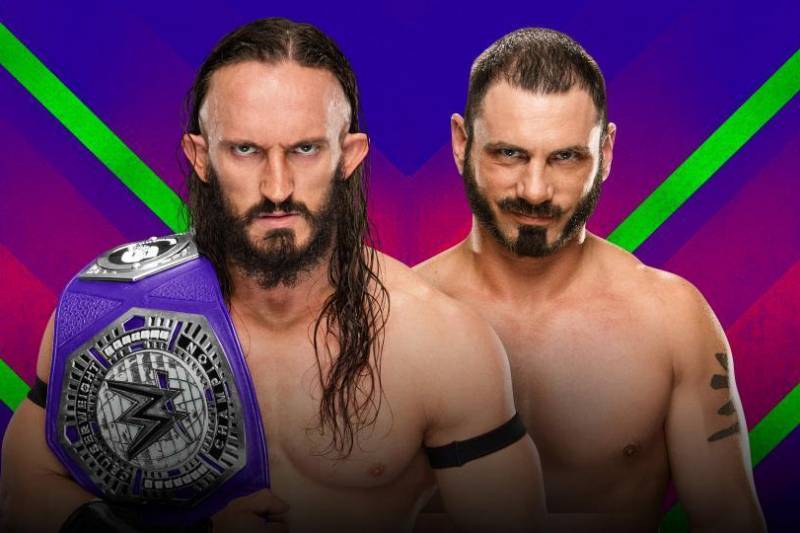 Time for cruiserweight action. This was easily the second best match of the night. Really good match between these two with a pretty surprising finish. I thought for sure Aries would get it here, but I guess not. I'm not complaining though. Neville is so fucking good and a very entertaining heel. Not sure who's gonna beat him, but he definitely deserves the lengthy title run he's had. Anyway, Neville wins with Rings of Saturn (no, not the shitty Deathcore band, that's his submission finisher) and retains. Fine by me. Both of these guys are above and beyond the cruiserweight division in my opinion and hopefully this means Aries will get bigger opportunities now.
Extreme Rules Fatal 5-Way Match: Roman Reigns vs Seth Rollins vs Finn Balor vs Samoa Joe vs Bray Wyatt (Number 1 Contendership for Universal Title)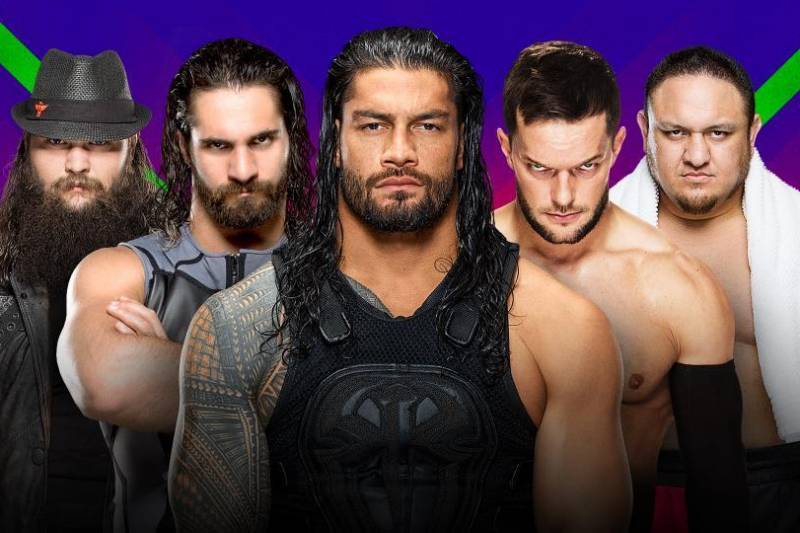 No Demon Balor? Uhh okay.
Main event time! Now, you all know how I feel about schmazz matches and WWE has been having way too many of them as of late, but this match could have been a bit better, but was actually really good. Very good main event for what it was. I just wish it would have been a little more chaotic and there were more tables and other weapons used other than the chairs, but that's current day WWE for ya. Overall, this was a good match with some really good action and a pretty shocking finish that I did not see coming. Samoa Joe picks up the win and will now go on to Great Balls of Fire (ughhh) to face Brock for the title. Ohhh boy, will that be a good one! Hopefully it's as brutal as we all predict. We shall see. Anyway, good match to wrap up an overall meh show.
Other Points:
The Homeless Sandow… I mean Elias Samson mini-concert was pretty cool. I actually like him.
I miss Braun Strowman.
Overall, this was a pretty lackluster show with some really good moments and 2 really good matches. Neville vs Aries and the fatal 5-way delivered and were easily the matches of the night. Everything else was just decent at best. I don't know what the hell they're doing with poor Bayley, but what happened with her was painful to watch. Hopefully she can bounce back from this, but it's going to be tough. That was just a baffling move on their part. But again, kind of dull show, but better than I was expecting. I look forward to Joe vs Brock next month.
Until next time.
-Scvm