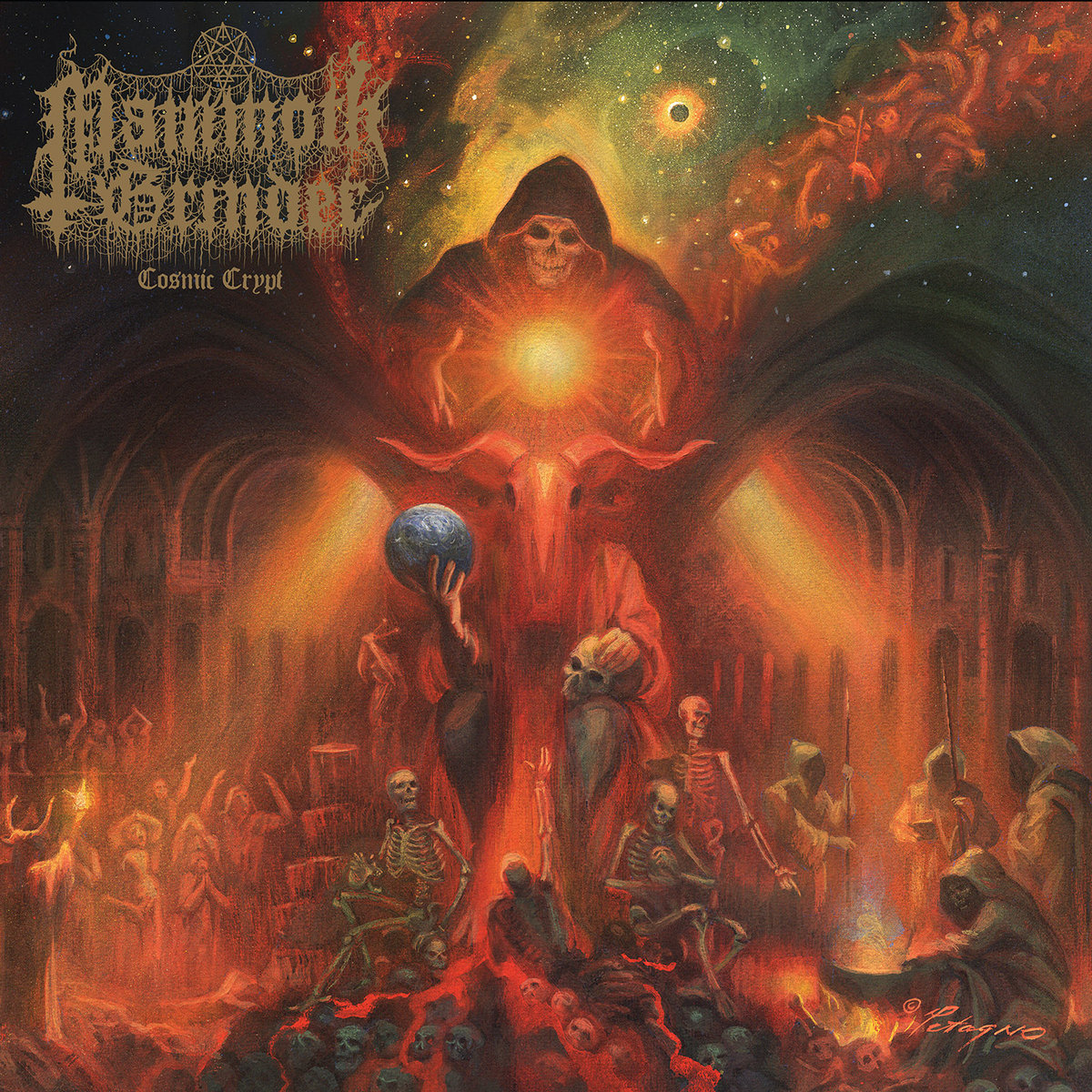 After realizing how much Death Metal I missed last year, I swore to myself not to make that same mistake this year and going forward. Just in time for that proclamation came the news of some quality deathly jams already coming down the pipeline for 2018. Portal being one, Genocide Pact being another and the newest outing by these Crusty Death Metal hooligans being the latest one. This is the fourth full-length outing by Texas purveyors of Crusty Hardcore Punk-laced Death Metal of the gnarliest variety, known as Mammoth Grinder. This is another album I was looking right the fuck forward to since it was announced late last year and with good reason. Whenever they rear their ugly heads to unleash a new batch of jams onto the world, you can bet your sweet ass that they're gonna bring a good hammering down on you. You can expect riff after riff after dirty, rotten, face-pounding riff and all the fast, ripping Punk-infused Death Metal ferocity that your eardrums can endure. That's what we've gotten from the first 3 albums and you can expect no different from this one.
Cosmic Crypt is a slightly different approach to the band's style than previously, as the last two albums were much more heavily Crust and Grind-influenced, which showed in the production, vocals, riffs and overall ferocity of their sound. This album is a lot more heavily influenced in old school Death Metal and has a bit of an early Obituary meets Gatecreeper feel to it with the murky, hazy atmosphere coupled with the sharp, abrasive riffs, bellowing growls and muddy, ripping drums, injected with the same Crusty, Grindy attitude that was present on the previous outings. It even reminds me a little of Vallenfyre with the Crust element, which is a plus considering the banger they just released, it's not too far off either. This is just a continuous slew of chthonic and explosive tracks with a seemingly endless supply of filthy, Thrashy riffs that are blasted at you incessantly under a grimy, mucky atmosphere that pervades you like a mudslide as the attack goes on. From the moment Grimmenstein blasts through the gate and goes right for the throat like a vicious caged animal, no chance for a breather is given as each following track effectively follows the same formula. Some tracks are more aggressive and exhilarating than others, like Blazing Burst, which to me is the heaviest track on the album, and Molotov; just an absolute fucking ripper. These guys, much like Gatecreeper, Bombs of Hades, Black Breath and the likes, do a fine job of blending Death Metal with a great deal of Hardcore, Crust and Thrash in such a seemingly faultless way and making something absolutely face-ripping out of it without any element overshadowing the others. It's what made me such a huge fan of Gatecreeper after hearing Sonoran Depravation for the first time and it's putting Mammoth Grinder in the top tier of this section of Death Metal the same way.
As relatively primal and straightforward as the band's style is, it's still very well crafted and continues to evolve and intensify with each album. The old school Death influence makes it even better. The atmosphere and ugly, in your face vibe just further enhances the viciousness of the riffs and harshness of the overall sound. While the main purpose of this may be to just simply beat your face in and tear your eardrums asunder, it does it with style and never strays from that very motive. It's simple, short, sweet and to the point but it makes sure to drive that point through your fucking skull in the mere 28 minutes it has to do so. That's all I ever really ask for when it comes to Death Metal; just a straight up assault of filth-riddled riffage and nothing else. Save the fancy shit for the Tech-Death crowd (some of you are cool too tho, not hating).
I honestly hope that this wave of excellent old school Death Metal continues and 2018 is filled to the fucking brim with it. The last few months of 2017 really opened my eyes to what I was missing and got me invested again in the genre more than I've been in the last few years. It almost feels like a renaissance of sorts that's happening with OSDM and if it is, i'm all in! This album and the next good few that are coming are just a few examples of quality Death Metal filth that's dwelling the underground right now, waiting to be discovered. If you're willing to dig deep enough, you're bound to come across something that floors you, even if you're an old, jaded fuck. Anyway, bottom line, Mammoth Grinder have yet to disappoint me, and by the looks of it, it'll be a good while before they do. Excellent stuff for seekers of all things rotten.